Riding bikes inside the Distillery District is extra challenging because of narrow lanes and bumpy cobblestone surfaces, and an abundance of human traffic including small children and pets, followed by a critical shortage of bike locking posts – it all adds up to a rather frustrating experience for cyclists who come away with the impression that bikes are not really welcome here..
It is significant that there are NO bicycle shops in the Distillery – Segway of Ontario rents bikes to tourists during business hours, but there are no mechanics or any places to buy a bike, or get free air for tires, or oil for the chain or any love for your bicycle anywhere within a four block radius of our scenic destination.
To further complicate matters, some visitors who ride Bixi bikes here from other parts of the city say that the Trinity St. bike rack is almost always full to capacity and there are seldom any available open spots for locking up the rental to get released from the contract.
Bixi Bike Ride to Distillery is a One Way Trip?
Some blog readers have told this author that whenever they rent and ride Bixi bikes down here, they have to ride around for 1/2 hr extra looking for a free spot to park the rented bicycle once they arrive. The locking station on Trinity St is sometimes full to capacity on weekends, and that means riders have to spend time backtracking to find an open spot to lock up their bikes and end the rental contract and get deposit back on their cards.
But riding your own bike here can mean spending time hunting for places to lock it up.
Locking Up Bikes in the Distillery District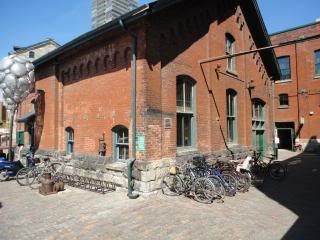 Could the Distillery District Be More Bike Friendly? You bet. For starters there needs to be more places with better locking posts!
Here are some snapshots of the tired facilities for locking up bicycles starting with the ancient bike locking racks behind Balzacs Coffee. This installation features very old 1930′s era bike racks with low metal hoops – ever tried these? They are impractical to say the least. This design is difficult to use with a Kryptonite hoop lock.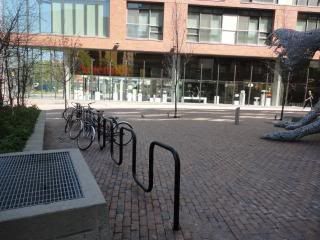 The first picture above is of the bike lock area beside the Rack House bldg north of the G&W Green Gates on Trinity St. at Mill (the site of a proposed new boutique hotel / condo bldg).
Or what about these wave shaped metal bars that have ten bike capacity each at the eastern end of Distillery Lane?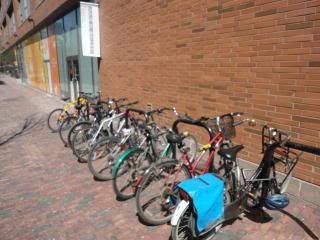 Bike racks in front of 24 Parliament are usually full of the resident's bicycles, but this is a place to consider looking if you cannot find a closer solution.
There are popular locking posts all along Mill St – but here there is a real risk that cars and especially delivery trucks will reverse into your bicycle. It happened to my friend who teaches yoga for kids in condo buildings while she was in the bank – she watched the cube van driver back into her bicycle while she was standing in line inside …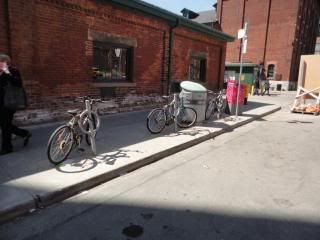 The driver of the cube van was there unloading furniture for someone in Pure Spirits condo ( the group was hoping to carry large items through the front entrance lobby which is strictly forbidden). The driver who backed into my friend's bike, in front of many witnesses, then tried to deny it was them that damaged the bicycle, and only when threatened with a police inquiry and the presence of the nearby bank's security camera tapes did he agree to any settlement.
As many as seven hundred cyclists descend on the Distillery District on any given Saturday in the summer, and its a problem when there are only a few hundred spots to lock up the bikes. The chain link fence around the parking lot north of the rack house on Trinity St and east to Cherry St becomes encrusted with bicycles on big days during summer festivals , esp during Eco-Wheels exhibit in July!
Post by Robert Campbell, May 19 2012.